Detailed information about purchases on iOS: subscriptions vs in app, prices, paid features.
Install OsmAnd​
You can download the app via this link - OsmAnd Maps on Apple App Store.
Difference between purchases​
Maps+​
Maps+ is an in-app purchase or a subscription for OsmAnd on AppStore.
OsmAnd Start​
This plan gives you free use of OsmAnd Cloud for Favorites, Settings and OSM editing/notes.
OsmAnd Pro​
OsmAnd Pro is a subscription, available for OsmAnd application on AppStore.
You can add your purchases to the Family Sharing - Apple.
Note
OsmAnd Pro subscription is a cross-platform purchase. It means that you can buy it in App Store and you can use it for Android versions, OsmAnd.net and vice versa.
Prices​
In the list, there is information about prices of OsmAnd product for the US and Europe region. For other regions, prices are equivalent in local currencies.
OsmAnd Free

In-app "Maps+"

Maps+

OsmAnd Pro

Purchase
-
One-time,
use forever
Subscription
for 12 months
Subscription
for 1 / 12 months
Price EUR
0€
29.99€
9.99€
2.99€ / 29.99€
Price USD
0$
29.99$
9.99$
2.99$ / 29.99$
Free and Paid features​
Pro Features​
Pro Features are available for OsmAnd Pro subscription. It means you need to have OsmAnd Pro subscription.
At the moment, the Pro subscription has the following features:
How to buy​
Easy way to choose and buy needed plan by "Purchases" menu. Of course, you see proposal menu for paid features.
OsmAnd Pro​
OsmAnd Pro subscription plan. Here you can choose monthly or annual subscription:
Menu → Settings → OsmAnd Cloud → Get → Continue with OsmAnd Pro
or
Menu → Settings → Purchases → Learn more → Continue with OsmAnd Pro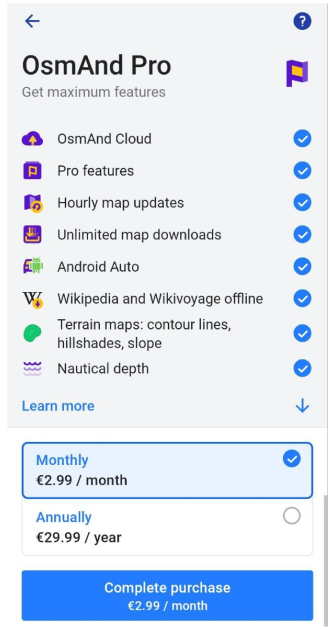 Maps+​
Maps+ subscription / in-app plan. Here you can choose annual subscription or one-time payment:
Menu → Settings → Purchases → Learn more → Click to the list of Maps+ features → Continue with Maps+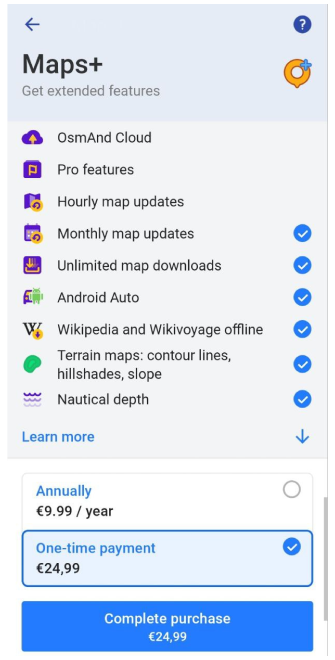 Legacy subscriptions (prior 4.0)​
New subscriptions became active from OsmAnd 4.3 (December 2022). All earlier subscriptions are legacy and techncically equal to "Maps subscription", though legacy subscriptions are entitled for Hourly Map updates. Users can't buy legacy subscriptions but old subscriptions are automatically renewed until the user unsubscribes (the price for them might change in the future).
Restore purchases​
Use the same Apple ID to restore your purchases.
Log in to the same Apple App Store account that you used to purchase in-apps(subscriptions) of OsmAnd Maps.
Install OsmAnd Maps on Apple App Store.
Open OsmAnd Maps with an active Internet connection.
To restore purchases follow these steps: Menu → Settings → Purchases → Restore purchases and at the top of the screen should appear that Maps+(Pro, Live) is activated.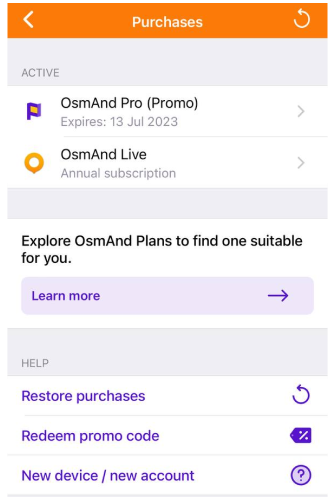 User can control all purchases and subscription from Apple account.
If none of the methods worked:

Clear the cache for App Store.
Clear the cache for OsmAnd.
Restart the device and try to restore again.
Giftcards​
User can purchase OsmAnd using App Store gift card. Using this method does not imply sharing a credit card information to the service. Just purchase a gift card from a retailer on the list and redeem the code one on App store.